How To Get SSS ID Number Online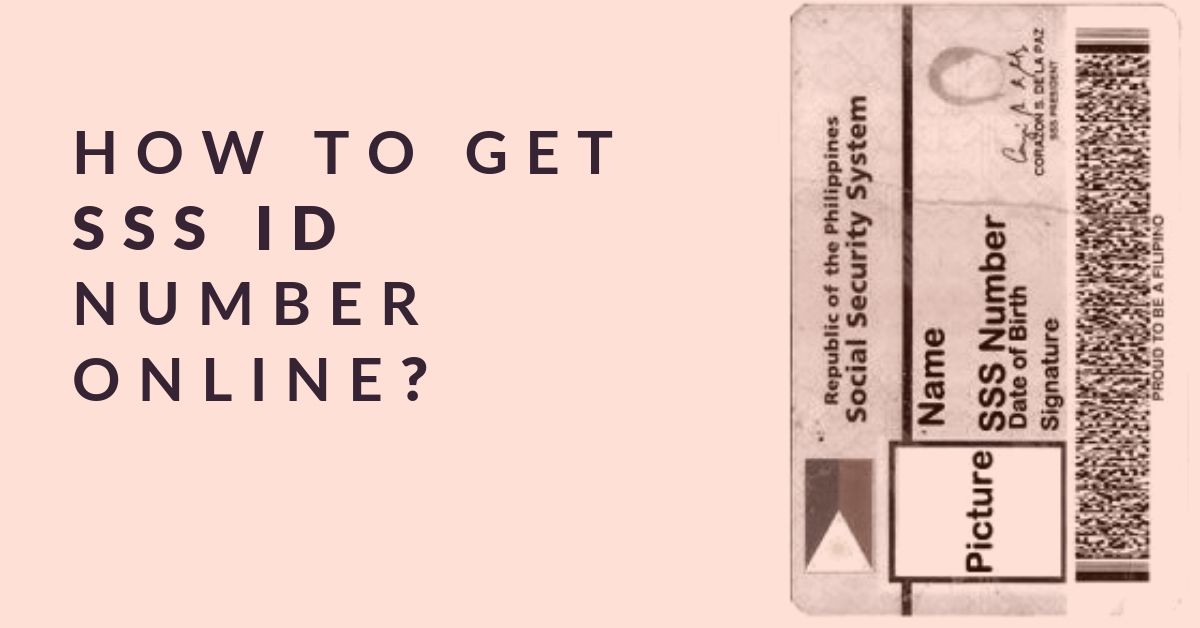 What is SSS ID number
Social security systems are valuable for both employees and employers who can get monetary assistance in the form of a certain percentage based on the overall compensation level. The most important advantage related to such systems is that they provide for a higher level of confidence in the future because of comprehensive governmental help.
The Philippine Social Security System is one such program that protects citizens by offering money compensations related to sickness, retirement, disability, and even death. It's better to know how to get SSS ID because the membership is obligatory for all employed citizens and optional for foreign workers, spouses, and separated members.
In this guide, we are going to reveal the basic info about SSS and, particularly, about SSS ID. We will cover the basic principles and rules of the system, online registration details, interaction processes, services available for employees and their bosses, plus all the significant benefits.
Social Security System Basics
So, what is SSS though? It is a social insurance program for Filipino citizens. As mandated by the law, it is applied to promote the welfare of workers and deliver social protection when necessary. SSS protects its members and lessens their financial burden caused by different factors, including illnesses, old age, and death.
Talking about SSS benefits, they are pretty diverse as the related compensation covers the following:
Sickness
Maternity
Disability
Retirement
Death
Funeral
EC program
Fast cash loans
Now that you know the SSS basics let's proceed to the system called SSS ID. If you are wondering how to register for SSS either online or offline, the following steps will undoubtedly be useful.
How to register in SSS
Generally, there are two ways of obtaining your unique SSS ID. First of all, you can go to any physical office and submit all the necessary documents as well as applications personally. Another approach involves registering your SSS account online. The second option is more convenient, but you still have to bring the required papers to any land-based venue.
All SSS ID numbers are unique and linked to the holder for a lifetime. If you have forgotten or lost your number, don't look for ways on how to apply for SSS once again - choose one of the options below:
Call via phone. The offices work round-the-clock from Monday till Friday. The line is often busy, but you can try it: 920-6446 to 55.
Check the number online. Sign in at the official SSS website if you already have your account there.
Email the help center. Send an email covering your contact info, date of birth with the required IDs attached.
Visit the nearest facility. The last option is to find a local office and visit it. The full list of SSS branches is available here >>>
Well, how to register in SSS offline?
At-Branch Registration
Despite the fact that SSS experts have spent a lot of time and resources to launch an online registration system, many Filipinos still prefer personal interaction in land-based offices. The online process is convenient and straightforward, but it also requires visiting a land-based facility to submit documents.
That's why the first guide will be covering offline registration steps required to get your SSS ID finally. If you are already aware of the process, jump to the next section where we describe how to get SSS number online.
1. Submit an E-1 Form
Initially, you should fill out an E-1 form also known as a Personal Record form. The form itself is available via official SSS resources where you can also find the requirements for it. The filled and signed E-1 form must be submitted to any local SSS office together with the certified copies and photocopies of a primary doc. The full list of documents can be found here. At this site, you can also find an answer to the previously mentioned question: how to know my SSS number?
Married, widowed, legally separated or divorced persons, citizens with void marriage, divorced Muslims, and members with children must deliver additional documents that confirm their status. Once the required papers are submitted and you have paid for the first month of membership, you can apply for an SSS ID card.
2. Submit an E-6 Form
This process is similar to the previous one, but you will have to fill out another form. It can also be found online easily. Make sure to submit it to a local office with one primary document or two secondary ones.
It's better to visit the chosen SSS office as soon as possible. If you are wondering how to verify SSS number most quickly, enter the branch at 6 a.m. so that you can have the verification done before 10 a.m. Also, always bring hard copies or original versions of all the required documents. Clerks will have to verify the copies you submit.
3. Get an ID Clearance
The mentioned ID clearance is a document that confirms that you're waiting to get your SSS ID card. It's impossible to obtain the card right after submitting the first or the second form. Thus, you will have to wait at least one day and revisit the office to register your ID information. The ID Clearance will act as your number in a queue.
Try to reach the office earlier because the land-based bureaus work on the "first come-first serve" principle even though the visitors have exact times specified. At the branch, a clerk will get your ID info (fingerprints, signature, facial recognition data, and your PIN). The process is quick, but queues are pretty long, so get prepared for waiting.
4. Obtain an SSS ID Card
The last step is elementary. Your SSS ID will be ready in 30 days after the moment of ID capture. Congrats!
How to register SSS online
Okay, now let's talk about more nowadays options. Further, you will find another step-by-step guide covering web registration and the related issues, i.e., how to activate my SSS online account?
It would be best if you remembered that the process is slightly different for employees and employers - so choose the relevant tabs at the website. Still, we will mention the essential points for each section. Also, remember that employers can't access the records of their employees.
1. Open the Registration Tab
First of all, go directly to the SSS site where you will spot a small button right below the title: "Not yet registered in My.SSS?". Yeah, click the button, and you will move to the window with several lines:
Savings Account …
Mobile Number…
UMID…
Employer ID…
Payment Reference…
Feel free to choose the most suitable option. The chosen ID will be used for completing your registration during the following steps. Alternatively, you can find this tab via the direct registration link. This window also features registration options for employers. Thus you should choose Member Registration in case you are an employee, Employer Registration in case you are an employer, or Household Registration if you own a household.
After submitting the required ID document, proceed to the following step.
2. Submit an Online Form
The common question is: how to activate SSS online registration? This step is essential. During the process, you will see a complex form with various fields. Take your time to explore all requirements and fill out the form carefully. Lines may be different for employees and employers, but all of them are petty understandable. Double-check whether your address and Reference Number are accurate.
Finally, tick the box with T&C and submit your form. Once done, you will see a confirmation message. At this moment, you can leave the site.
3. Activate Your Account
Additionally, a confirmation email will be sent to you via the official system from web.notifications@sss.gov.ph (it can take from 5 minutes to several hours to get this mail). This email should contain your User ID and another link which leads directly to the SSS profile. Remember that it is required to activate the account within five days after receiving the mail. Click the link, and you will jump to the site for setting a password and checking the profile details.
If you are wondering how to unlock SSS account, follow the previous steps. Activation should be instant, but there are some intermediate steps to remember about:
CAPTCHA. Make sure to enter the correct verification code before submitting the form. It will speed up the process.
Processing system. No rush! SSS machines and experts need some time to check your form and send a confirmation email.
Mailing service. If you can't find the email in the inbox section for several hours, check your Spam folder because some mailing services can automatically ban it.
4. Get Your SSS ID Card
The final step also requires some personal interactions. You should print out the Record Form, your Number Slip, and the confirmation statement sent by email. Then, visit the nearest land-based venue to get your ID card. For more detailed guidelines on how to interact with clerks, check the previous section with info on how to know SSS number. After online registration, offline processes should be simpler and faster.
SSS Services for Employees and Employers
For two categories of members - the employee and the employer, the SSS online platform delivers two slightly different service packages. Let's take a brief look at each.
If you are a member, you can:
Find the membership and contribution info
Reveal benefits
Check loan records
Submit applications
Set appointments with branches
Inquire about eligibility
Find estimated benefits
View and create statements
Learn how to update SSS information online
If you are a registered employer, you can:
Get records
Submit transaction reports
Submit applications
Access transaction history
View, generate and edit contribution lists
Set appointments with branches
Update contact info
SSS Benefits in More Detail
In the last section, we want to talk about all the available benefits for SSS members. From sickness compensations to cash loans online, the platform delivers valuable bonuses. Let's look at them one by one:
Sickness – a cash amount (90% of the insured person's ADSC) paid regularly for each day (min. 4, max. 120 per year) that an SSS member can't spend at work due to illness or injury.
Maternity – a cash amount (100% of ADSC multiplied by 60 or 78 days) paid to a female SSS member who can't work due to pregnancy or miscarriage (max. 4 times in life).
Disability – a cash amount (P1,000-P2,400 plus extra P1,000 plus extra P500) paid per month or as a total to a member that becomes permanently disabled.
Retirement – a cash amount (P1,200-P2,400 plus extra P1,000 plus extra P250 for minor children) paid per month or as a total to a retired member.
Death – a cash amount (P1,000-P2,400 plus extra P1,000 plus extra P250 for minor children) paid per month or as a total to relatives of a deceased person.
Funeral – a cash amount (P20,000-P40,000) paid as compensation for burial costs.
EC program – all the listed benefits plus other services, e.g. medical ones. All SSS members are covered by this program and can claim compensation in addition to SSS benefits.
Personal loans online – cash amounts paid as a one-month or two-month salaries to employed members. These easy loans come with a 10% interest rate.
That's it. Hopefully, you now know how to log in SSS, get your own unique number, interact with the platform, and get cool benefits. Remember that social security can be beneficial!
You can use a hotline via (632) 920-6401 or (632) 920-6446 to 55.

Emails can be sent to member_relations@sss.gov.ph or ofw.relations@sss.gov.ph.
The organization also has its Facebook page (https://www.facebook.com/SSSPh) and Twitter account (https://twitter.com/phlsss).